I'm going Green with Heidi at
HEIDI'S HEAD
and Destination Disney.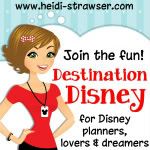 Heidi says,
"
This week, let's focus on the color
GREEN
I'm not going to give any direction for these posts except to say USE YOUR CREATIVITY! You have free reign here – I only ask that your posts are Disney related in some way. So, even if you've never been to a Disney park – you can play along! Share a picture!"
So here I go. My Disney in Green!
Surrounded in Hawaiian Greenery at the Polynesian Resort
My Jasmine
Star Wars Weekend! Bobafett and Storm Trooper greeting us early
Hollywood Studios
Home away from home
One Man's Dream Gallery
Hollywood Studios
Tree-lined entrance with Space Ship Earth
EPCOT
My girl and Princess Jasmine
EPCOT
The Tree of Life
Animal Kingdom
Our favorite ride, Mt. Everest surrounded in green while waiting on Finding Nemo - The Musical
Animal Kingdom
Homeschool Days with author Ridley Pearson and his ideas on how to be a great author. "Write, Write, Write!"
Hollywood Studios


My boy in front of Muppet Vision 3D and the Original Green Kermit!
Hollywood Studios


You can join in on the fun too and see out other fun post on Disney Green by visiting Heidi at What Going on in...
HEIDI'S HEAD