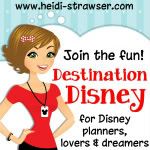 Heidi says, "
I'm not going to give any direction for these posts except to say USE YOUR CREATIVITY! You have free reign here – I only ask that your posts are Disney related in some way. So, even if you've never been to a Disney park – you can play along! Share a picture!"
This was an easy one for me because my daughter LOVE's Pink! So here goes, Disney Pink
Disney's Kingdom Keepers Quest is for the fan's of the "Kingdom Keepers" series written by Ridley Pearson.
The books follow characters throughout the parks of Disney after dark, in their fight of good against evil. Our boys have loved this series. We were blessed to be a part of Disney Homeschool Days in January 2012 and meet Ridley Pearson, hear him speak on what inspired him to become a writer and how to be a great writer. Then we took the Quest. Your family is given a book to follow the clue, break the code and find the secrets throughout the entire park. It was really fun! It helped us see parts of the Magic Kingdom that we have never noticed before.
You can find out more about the Kingdom Keepers Quest
HERE
from the Disney Youth Education programs.
This was the silliness waiting for me when I came out of Pooh's Shop at the Many Adventures of Winnie the Pooh. I couldn't resist snapping a picture. And, as always, my girl, surrounded by her Protective detail [a.k.a. Big Daddy and brother's] is shining in her Pink Princess shirt. This shirt has been on 6 trips to Disney. I bought it when she was probably 2 years old, a little large for her, so that she could where it for a while. Who knew?
Pink cheeks on a hot Mays day at Disney's Magic Kingdom, cooling off on the Transit Authority
My Pink Princess meeting Princess Mulan
Italy- Epcot - Pink bricks and beautiful pink flowers
Meeting Heidi for the first time in Downtown Disney. It wasn't long. It was VERY hot [shine alert] But, we made up for it the second time around over tea and 'crumpets'. So looking forward to doing it again in the future.
Last, but certainly not least, my Pink Princess getting the Royal Treatment at the BBB
Thank you for joining me!
From My Heart to Yours,
Mindy B
Revelation 12:11