2012
Happy New Year!
Welcome My Own Sense and Sensibility readers. I pray that your 2012 has welcomed new hope, re-newed Trust in the Lord and a rejuvenation for the GREAT things the Lord has planned for us all.
So to get us started
I am pleased to share with my first review of the new year...
For years I have been pondering that big homeschool question, which program to use for teaching a foreign language. Those who are with me on this one know that the BIG ones offered are just a bit too pricey at different times of the homeschool budget. The simple fact that you are teaching another language, that you may have studied a little in college, can be extremely intimidating. Well, I believe I have a solution to both ponderings. Easy and affordable!
Relax, Enjoy, Aspire, and Learn Spanish
Homeschool Spanish is divided into 10 themed units, 48 weeks of learning. Dr. Karyn Williamson-Coria leaves it up to the teacher whether you will cover 1 or 2 years of study. Each unit contains one to four sections each with vocabulary and Home Educator tips, Ideas for facilitating home learning, Grammar tidbits , Audio, Book, Activity Book and Answer Key.
Beginning with Lesson 1, and throughout the curriculum
REAL Homeschool Spanish
stresses more than anything that communication and enjoyment are the greatest ways to learn. Listening to the audio sections of each unit, your student is encouraged to repeat the words and phrases throughout the lesson and using them in your everyday life to build confidence in pronunciation and assist in memorizing. There are activity sheets that accompany each unit that are great aids in cementing new vocabulary and usage and make the lessons fun.
"We believe that a relaxed environment encourages positive language learning. Too much grammar and too much emphasis on perfectly correct speech hinders the enjoyment and progress of learning. Slow and Steady practice promotes correct speech over time. For these reasons, we have limited our grammar sections to the minimum and stress communication and enjoyment first."
There is a wonderful "Daily Curriculum Guide" at the beginning of each unit to help you, the teacher, to never have to worry about when and how much to plan for your child. There are planning sheets included for you to customize your child's learning journey. Dr. Williamson-Coria suggests using the program 20-30 minutes per day to keep up momentum and new vocabulary fresh in the mind.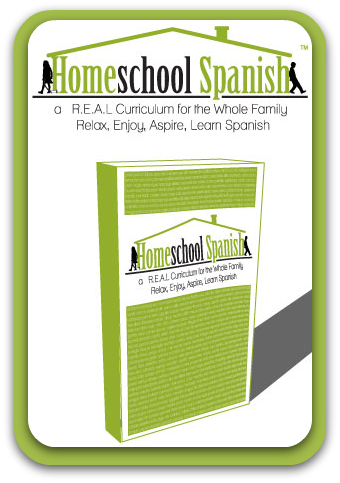 REAL Homeschool Spanish was created for students ages 5-13 and was made specifically for the home educator and home learning environment. The relaxed learning method helps you to learn alongside your child with ease. The Tips to the Home Educator is full of ideas to help you easily teach your child without stress for you or your child. These are included in each section.
"You will learn to adapt the curriculum to the learning pace of your family".
Each unit is made up of vocabulary clusters. There are 33 vocabulary clusters and 15 Idea Sections each with 3-4 activity sections along with audio files of native speakers from Mexico using the vocabulary. A Daily Curriculum Guide with lesson plans is also available. You can view the Table of Contents by clicking here. There are also Free Culture Links are also available on the website.
The sections, "Tips to Get Started" and "Multiple Children Ideas" are great resources in helping you use this program in your homeschool.
You can purchase REAL Homeschool Spanish as a download or hard copy.
Book Bundle Download including book, activity book, answer book and audio files is $49.95
All of the above as a download plus the Daily Curriculum Guide is $59.95
Hardcopy is $89.95
Hardcopy including Daily Curriculum Guide is $99.95
We will be using this curriculum in our new year, the 2 year method with Rhino Legend. It is perfect for him to learn at such a guided pace. I think our Princess is going to get a lot out of studying with her brother.
From My Heart to Yours,
Mindy B.
Revelation 12:11
Please visit the
TOS Homeschool Crew and READ
more reviews on REAL Homeschool Spanish.
Disclaimer: As a member of The Old Schoolhouse Homeschool Crew, I received products, for free, for review. All of the opinions expressed on My Own Sense and Sensibility are solely my own, and I only suggest products or services that we personally use or believe will be helpful to my readers.