It's
REVIEW DAY

and today from

I bring to you...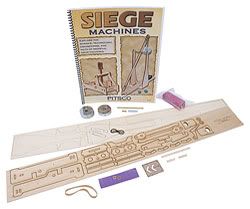 SIEGE MACHINES
What child doesn't enjoy crafting his or her own fifteenth-century military weaponry. Well, mine are no different. They enjoy just about any play weapon, especially hand-made, they can get their hands on. Then you add on the science and math of distance, force, speed, weight and inertia, friction and counterweights - moms you and your students have a really great opportunity to learn something extraordinary about the ancient art of war.
Pitsco Education
has so graciously blessed us with their
SIEGE MACHINES KIT
.
Trebuchet
The trebuchet was a little more intricate and required more hands-on help from mom to put it together due to the fact that I had to make some minor cuts with the knife. Everyone took turns gluing and applying pieces. This machines took us the longest out of the two. You must make sure that you make the string for your sling even on both sides or it will work correctly. Also, the clay ball cannot be too big or it will be too heavy for the machine. The string tends to be a bit flimsy, but once they got the hang of it, the balls of clay were flying.
Once put together the fun began. See for yourself...
Catapult
The catapult was so much easier to put together and seemed more sturdy than the trebuchet. The boys did not seem to need as much hands-on help from me. I simply read the instructions and they made sense of the instructions with the pictures included. You must make sure that you glue all of the pieces on well. We used super glue for some of the steps and the wood just absorbed the glue and the pieces had to be re-glued with the carpenters glue.
Let the catapulting begin...
Siege Machines Book on ancient, medieval Siege Machines and their detailed history of use opening up the world of science and math teaching your child the intricacies of the amazing weapons of warfare. This was a great addition to the kit. We were able to discover so much more than we ever knew about these old but incredible machines - history, math and science. It included experiments to enjoy the two kits even more.
This Medieval Machines kit requires adult help. All of the equipment is provided for you. All you need to provide is super glue to glue all the pieces together and something to protect the surface your are working on as well as a few other details listed below.
As we began putting the machines together the directions were quite clear. The picture instructions were a necessity to make some of the directions come to life, but otherwise we had no problems.
I found with the trebuchet that the material used was a bit delicate at times when making the cuts to connect the string. I had to make these to have a steady hand and not cut too much or to break the piece of wood. Also, once the trebuchet is complete it didn't seem as sturdy as my boys would have liked for it to have been. When they made their shots, it worked, but it took some patience to keep it from falling or being knocked over because it is so light.
This kit would be a great Christmas gift to give to that budding warrior in your family. To add to the fun you could add army men to attack with your Medieval Machines.
Included in Medieval Machines Kit:
Trebuchet Kit
Catapult Kit
Siege Machines Book
Clay
You will need to provide: Hobby knife, needle-nose pliers, ruler, scissors, sandpaper, and glue. We used super glue and a little carpenters glue.
PITSCO ONLINE STORE
: Product #W37789 for $21.95
"From The Lord of the Rings to Night at the Museum, we are fascinated by these medieval devices. Now, use that interest to teach basic math, science, and problem-solving skills. With this pack, your child learns about catapults and trebuchets through hands-on activities that cover three areas:
•Science: Tension versus torsion, elasticity, gravity and levers, and force and motion
•Math: Metric conversion, calculating averages, and prediction
•Experiments: Mass versus distance, testing rubber bands, targeting, and more
They will discover the history of medieval siege machines as well as the concepts required to build and use them.
Includes a Trebuchet Kit, Catapult Kit, Mass Plates, and the Siege Machines book.
Note: Most guide activities require additional items such as measurement and hand tools – see the Specs tab for more information."
From My Heart to Yours,
Mindy B.
Come on over and enjoy more Pitsco Medieval Machines reviews from the TOS Homeschool Crew.
Click on the icon below.
Disclaimer: I received this product free of charge in exchange for my honest review.