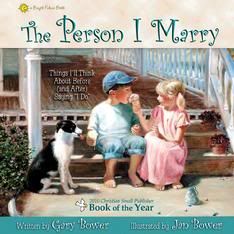 Things I'll Think About Long Before I Say 'I DO'
2010 Book of the Year
Christian Small Publisher Association
It has received wonderful endorsements from Gary Smalley, Eric & Leslie Ludy, and the Duggar Family. This book is part of our "Bright Future Series" which shares Biblical principles for families in beautiful and down-to-earth ways. The Person I Marry was awarded "2010 Book of the Year" by the Christian Small Publisher Association. We created this book the year of our 30th anniversary as a tool for tenderizing the hearts of our own 12 children, and sparking comfortable conversation about marriage amongst ourselves. It is hardcover, 32 pages, and retails for $11.99. We hope you like it!
Since the moment we knew we were expecting each one of our children we have prayed for their future spouses. Over the years we have encouraged our children to pray for their future spouse and to ask the Lord reveal to them who their chosen mate would some day be. Words such as...
Kind
Appreciative
Forgiving
Respectful
Loyal
Trustworthy
Full of Integrity
... resound in our every conversation with them as to the character we pray they will seek in the special loved one God has chosen for them. Our hope is that we as husband and wife have done our best to model all of these qualities. Now, to encourage our children even further, The Bower's have given us a beautifully written and illustrated book for our children to read and understand the wonderful character traits to look for in a mate.
I just have to say,I love this sweet book. I am thoroughly impressed with the absolutely stunning paintings by Jan Bower. Her gift of bringing to life the sweetness of a child through soft and colorful paintings brought a song to my heart. As I read it to my daughter I am so aware of the beauty she sees in the blessing of the person she will marry. When you add the gentleness and the wisdom of Gary's writing about what to desire in a spouse, it is an overwhelming joy to share this gift with her.
Perfect as a gift for a newly wed couple, a family with young children, or a young girl on her birthday. It has such beautiful gift book, that it would be an absolute treasure of a gift to give to a young lady who is waiting on the man God destined for her to live the rest of her life with.
This book is a simple lesson in the qualities that we should possess, as well. I have found in reading it that it encourages these character qualities that I want my children to live out in their lives. My son has come to me as I have been writing. I first thought it might seem too childish to him, but once he saw the pictures and I told him what the book was about his interest peeked and I told him I would read it to him.
A Great Wedding Gift for the Happy Couple
(Give an adorable book instead of a card that will be thrown away!)
An Amazing Character-Building Tool for Kids!
(Remind your children that the INSIDE matters more than the outside!)
An Excellent Conversation-Starter with Teens!
(Discuss important topics in a NON-THREATENING way!)
To purchase your own copy or a copy for a loved one you can visit Bower Books
HERE
for a very reasonable
$11.99
Respect, kindness, honesty, faithfulness, thoughtfulness, patience - qualities like these make strong marriages. Created by award-winning author & illustrator team
Gary & Jan Bower (married 32 years), this
adorable book warms the hearts of all ages in its celebration of commitment, purity & true love! ~
Hardcover * 32 Pages ~
Beautifully Illustrated
Other books in this Bright Future Book Series are
What Do Heroes Wear?, There's A Party in Heaven,
and
The Jingle in My Pocket
From My Heart to Yours,
Mindy B.
Revelation 12:11
Disclaimer: I received this product free of charge
for the purposes of sharing my honest opinion and review.
You can read more Reviews from my Crew Mates at The Old Schoolhouse Homeschool Crew
HERE