Oh yea, it's time to get your game on!
It's
and
My Own Sense and Sensibility
and today I bring to you, from


For game players: Ages 8+
Number of players:
2 - 4 educational, nature, trivia, exercise
Wise Alec Nature Nuts
is Science trivia with a nutty twist! Fun elementary school nature topics that challenge players of all ages. What a great way for us, with our busy curriculum, to include Science and Nature in our day-to-day learning and play a game at the same time.
Wise Alec Nature Nuts
is a fun way to get in a relaxing, yet challenging game of learning all about the Earth, Plants and Animals.
"Explore the marvels of nature with the trivia game based on the award-winning Wise Alec™ Family Trivia Game. There are 300 questions to test your knowledge of animals, plants, and the Earth. Two levels of questions on each card let everyone from the nature novice to the eco-expert play together. Plus, Wise Alec™ cards will have you doing tongue twisters, brain teasers, and fun exercises!"
The cards from this game can also be used to expand your own set of
Wise Alec™ Family Trivia Game
to bring even more fun Science Trivia to your family fun.
It is a great way to encourage my children in their knowledge because they are 'rewarded' for what they know. But, they also learn from what they do not know when asked a trivia question or hear the trivia questions of the other players. Even my Precious Princess, who is 5 years old, joined in the game and surprised us, when we simplified the 3 point questions a bit, with how much she knew.
The kits contains:
1 color coded dice
Questions cards [There are 4 sets of cards with different subjects]

50 Animal Cards
50 Plant Cards
50 Earth Cards
50 Wise Alec Cards
Each card contains a 3 point and a 7 point question, 3 being easier, 7 being a little more challenging. We really have had a good time with this game.
Example of the questions on the Subject cards are:
"What's an eagle's most keen sense?" ~3 points
"What is the eagle's position on the food chain?" ~7 points
The Wise Alec cards present more interesting and fun choice such as:
"STUDY BREAK: Hop from side to side 15 times." ~3 points FUN!!
To play the game one player rolls the dice. The color the dice lands on determines your choice. Red for Animals, Yellow for Earth, Green for Plants, Purple for Wise Alec, Blue to pick your own subject and Orange to have the player to your right pick a subject for you. The player has a choice between the 3 point or the 7 point question. We allowed them to, if they chose the 7 point question and could not answer it, change to the 3 point question. Everyone agrees to the point goal and you play to that goal.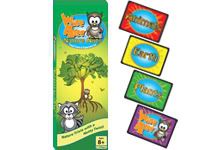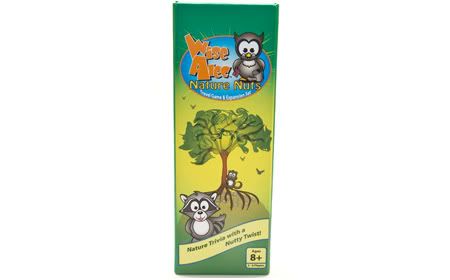 Our only 'cons' about this game are that the cards are a tad flimbsy and can be bent easily. The dots on the dice rub off when hands are sweaty or from taking it in or out of the great box. Otherwise, the magnetic closure on the box and the directions printed directly on the box are a real bonus to this compact travel game.
HOW TO PLAY WISE ALEC NATURE NUTS
To find Wise Alec Nature Nuts visit
Griddly Games Inc
to find a retailer near you or visit Amazon.com where it is available for $14.99
Also available:
Wise Alec Civilize This! Travel Game ~ a world cultures game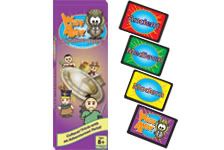 Wise Alec Sports Buff Travel Game ~ a sports history, athletes and rules game
Our family recommends this game for fun and learning. Here is what my children had to say:
Soaring Eagle
: "I like that it was fun but you were also learning something. I like the cheesy jokes on the Wise Alec cards."
Rhino Legend
: "It's cool and fun."
Precious Princess
: "It's fun."
Play and Learn! Enjoy!
For more wonderful reviews come on over to
TOS Homeschool Crew
and what other mom's and dad's are saying about Wise Alec games.
From My Heart to Yours,
Mindy B.
Revelation 12:11
I received this product free of charge for review purposes only in exchange for my honest opinion.