It's
and today I am pleased to share with you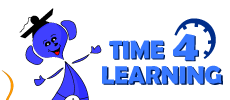 Time4Learning
is an online, interactive, complete educational curriculum for children in preschool through the 8th grade. Homeschool, Afterschool, or Summer learning enhancement this online learning program uses a combination of animated lessons, interactive activities, and reinforcing worksheets to teach Language Arts, Extended L/A, Math, Social Studies, and Science.
•Online curriculum for grades Pre-K through 8th
•More than 1,000 interactive animated lessons
•Self paced lessons
•Math & algebra tutorials & printable worksheets
•Language arts, phonics & grammar lessons
•Interactive, project-based reading activities
•Science (grades 1st – 6th) & social studies (grades 2nd – 7th)
•Detailed reporting for easy record keeping
•Extensive lesson plans & teaching tools for parents
•and much more…
A membership based program, once you set up your password protected accounts for each child you are ready to begin learning. Your children choose the 'Lessons' tab and choose from L/A Extension, Language Arts, Math, Science and Social Studies. The lower the grade level the less the subjects are offered. Precious Princess had Language Arts and Math for K.
Once your child completes one section of the subject they are working in, they are given 'Playground' time. The 'Playground' is a listing of 100s of fun online video games rewarded to them for completing their work. These are such fun games as Pac-Man or Asteroid. Yay! My kids Love to be rewarded with computer game time so this was just even more incentive to get the job of learning done.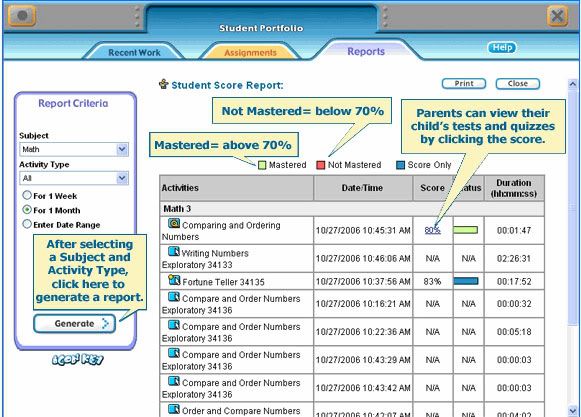 Student Progress Reports Show you:
What lessons were completed during the day, week, or month.

What lessons were begun but never completed.

Grades/percentages of testing completed.

Duration of lesson.

Are Great record for lesson plans to print out via pdf.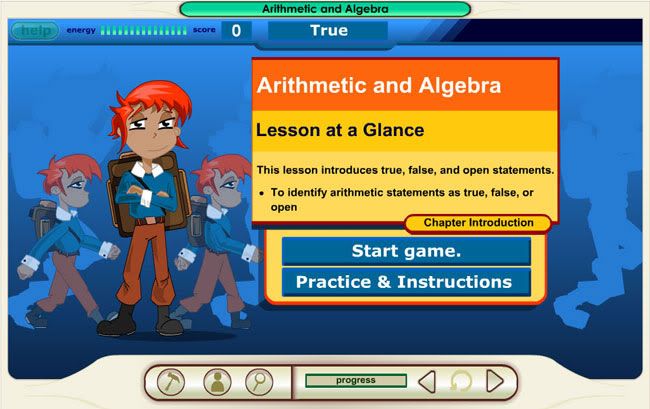 Mathematics
If your child has been placed in a grade specific level but he/she is not ready for that level or needs to move up a level, you are able to move them to the appropriate learning level that suits them the best.
Language Arts
Rhino Legend: He worked at the 5th grade level and every subject seemed to suit his learning ability. The Language Arts section was full of animated, interactive graphics with fun skits presenting the information i.e. synonyms, antonyms, vocabulary, spelling etc. He loved this section above the other subjects. It was the most engaging and interesting to him, holding his attention the most. The 'Old Time Word Show' was almost like not doing school at all.
We did not work on math as much as the other subjects because it is a subject he does well in and we needed to focus on them for increased learning.
The Social Studies involved more interaction with me due to all of the reading. There were lots of fun facts, Q & A sessions in the midst of the lessons, map labeling, Listing of States and suggestions for activities and books to see about in addition to the material presented. They even suggested keeping a Science and Social Studies notebook to keep up with different written facts and maps along the way
Math-Graphing
Soaring Eagle: He was working at the 8th grade level. His strong suit is not math, so the math was a bit of a struggle for him at times but it was good to have that challenge for him to see when his strengths and weaknesses are. He enjoyed most of all the Social Studies portion. He felt like he was learning more information than his regular curriculum had provided or he just missed. We agreed that the information was presented in such a fun manner that maybe he just saw the facts in a whole new light and it really 'sunk in' because he was enjoying it.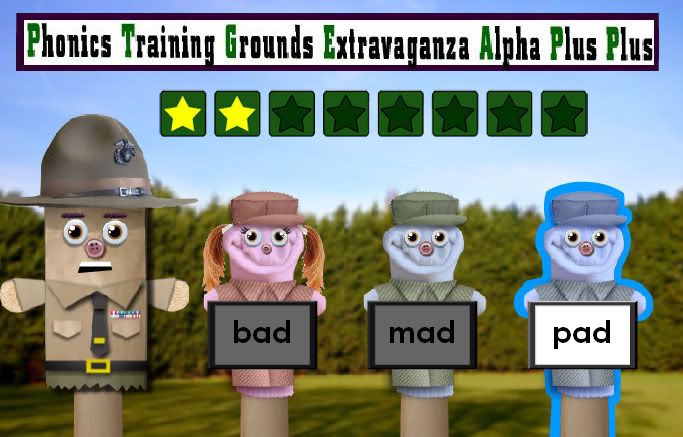 Language Arts
Precious Princess: She had a great time on her Kindergarten activities. They were a bit simplistic at times but it was fun and colorful and full of cute animals.
The only drawback that we found was when we had to stop in the middle of a lesson or there was a glitch on our computer, when we logged back in or came back later, they had to start the lesson/test over in order to receive credit for that section. In the L/A section you have to go through all of the videos completely, again, without being able to skip. For Precious Princess, when she wanted to go to the Letter Journal pages again, it took her a while to get to that point.
COST OF THE PROGRAM
No contracts! Cancel at any time!

$19.95 per month for the first child

$14.95 per month for each additional child

Two-week money back guarantee!
From My Heart to Yours,
Mindy B.
Revelation 12:11
I received access to Time4Learning for a free 1 month trial for review purposes only.