Time for us to dive into a new Tool for School.
And I have a good one today for everyone.
Introducing.....
At the end of our school year, last, I was introduced to SpellingCity.com through a wonderful lady's blog over at
Oh, My Stinkin' Heck
. Love it! "Oh my stinkin' Heck." As a southern girl I can totally relate to this saying. Oops, back on track. Anyway, She was doing a special guest blog on
Pioneer Woman's Homeschooling
section. Once I read her entry I had to try it. She mentioned there was a free version to "check it out". So, I decided to do just that and see if it fit into my children's learning styles.
I put in our lists and we started immediately. Adding lists was easy. Taking tests was easy. Printing scores was ... you guessed it, easy. There were no complaints either. My boys really liked this new approach. It was WONDERFUL!
Spelling City offers
Over 42,000 spelling words and customizable sentences
A REAL person who says each word and sentence
Free home pages for teachers and parents to save lists
Teacher training videos to show teachers and parents how to use SpellingCity.com
Customizable sentences for words with multiple meanings (e.g., a scale for weighing, to scale a mountain, the scale on a map)
Free printable handwriting worksheets for handwriting practice with your saved lists
Free teaching resources with lists and lesson plans for teaching high frequency words, compound words, sound-alike words (their, there, they're), contractions, possessives, and more.
There are also lists for learning state capitals.
12 games are included to help spur on your child's learning! Fun!
Needless to say I am hooked. They created this wonderful site for public school children and for students schooling at home, as well as students who need a little extra practice at home as homework.
I was in the middle of scheduling our new school year and was contemplating spending the extra money on the membership when ***AHHHHH (the angels were singing)*** the Lord blessed us with the opportunity to review the Premium Membership for Free. Yay!!!
Let me just tell you, I believe the $24.99 for a family of five is spectacular. I will show you what I mean.
There are probably hundreds of previously prepared lists of all kinds. Homophones (sounds alike spelled differently), Compound words, Beginning spelling, Phonics and Sight Words and more, all downloadable to your list management. You can also...
Create and save your own new lists
One of the wonderful ways we use this option is while generating my lists
I do separate list 'Groups' for each child.
Eagle 1:
7th grade list each separated alphabetically
(i.e. 7th Grade Spelling List A, 7th Grade Spelling List B, etc.)
Rhino 2:
4th Grade Spelling List ('A' Words, 'B' Words, etc.)
and Sequential Spelling Lists (Day 1 List, Day 2 List, etc.)
Set up student accounts each with a separate password/login. This is to protect grade changes and getting into the wrong students account
Maintain gradebook for each student - which are printable. I LOVE this part! I don't have to grade and record anything. It is all taken care of for me automatically! Awesome!
Even more games to choose from.
Your student gradebook contains:
Gradebook
Student activity reports which include


Spelling list completed
Activity
Date
Score
Wrong words
Even a delete button if you would like the student to Try again.
Writing Activities
Student management
Customize - for including instructions for sentence and paragraph writing.
Each day your student will log into Spelling City with a user name and password ensuring his/her scores are recorded in the gradebook. Once they have completed their "Test Me", "Teach Me", and "Play A Game" sections they are prompted to print a certificate and/or a correct and misspelled list of words completed as well as their score/percentages.
I have used these to practice their spelling skills when we have a "Spelling Bee". I also allow them to rewrite those words so that they can get the correct spelling deeply ingrained in their memories.
One of the options that I absolutely LOVE is when your student pulls up his/her list they have the option to print a handwriting. A handwriting sheet in quickly generated for printing with just the spelling words on that list. The different forms of writing are Print, D'Nealian, Cursive and even Sign Language.
Check out this video Handwriting
"How To Use Printable Worksheets"
The printables range from Spelling List and Alphabetize Game to Missing Letter and Sentence Unscramble.
There is also a section for sentence writing and paragraph practice writing using the words in their spelling list. Once your student has completed the exercise he/she can print the PDF form to have as a hard copy for their hard copy records. Find videos on these
here.
When I asked my boys what their favorites were from Spelling City this is what they said:
Eagle 1 "I like the word descriptions/sentences. I also like the games, like Letter Fall."
Rhino 2 "I like getting to type. I like the game Hang Mouse!"
So as you can see there are a multitude of great resources in this user-friendly site. Take some time to check it out. You won't be disappointed. Once our membership concludes the Brasher Family will not miss a beat to sign back on.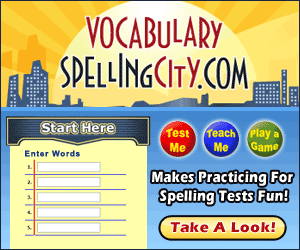 Enjoy!
From My Heart to Yours,
Note: All or most all text in bold are linked to website(s).
Disclaimer:
I received this product free of charge for review purposes only.
Reviews are strictly my personal opinion of this product.